There are many outdoor activities around the area, all of which are right on our doorstep.
Mountain Biking:
Right next door to the cabin site (around 2.5 miles away) is Coed y Brenin (forest of the kings), famous throughout Europe for some of the best mountain biking in the UK.
There's something for everyone here, a 12km fun trail, the infamous 'Red Bull' and 'MBR' trails, and a 38km Karrimor loop which includes a challenging 1100m climb.
For other mountain bike trails visit: www.mtbwales.co.uk

Walks:
We have a whole selection of walks throughout the area waiting for you at the cabin. We've handpicked our favorite walks, and left photocopied guides of each one for you. There's everything from a wheelchair accessible walk with spectacular views of Cadair Idris, to more energetic 8 hour hikes.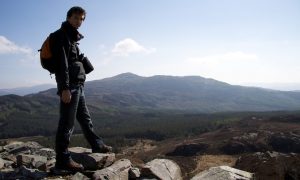 Stargazing and Astronomy:
The Snowdonia National Park is sparsely populated, there are no major cities and much of the road network remains unlit. All this helps to provide you with an enviable view of the night sky. With so little light pollution star-gazing is simply wonderful in this part of the world.
If you're staying in the two-bed cabin, there's a telescope for you to use on the large balcony. Make yourself a flask of tea, sit outside, enjoy the peace and quiet as your eyes become accustomed to the dark and then lose yourself gazing out at our galaxy and the universe beyond. We've found no-better place to view the stars than from this quiet part of Wales.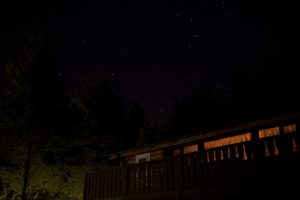 Visit the local Pub!
Our local pub, "The RhiwGoch Inn" dates back to the 12th century and was the birthplace of St John Roberts who was born here in 1577 and martyred in London in 1610.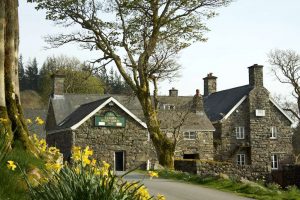 The pub is literally just a five minute walk from either cabin. There are two well stocked bars, a games room (with two pool tables) and they serve fantastic home-made food. You can take a look at the menu (in PDF format) here.
At colder times of the year there are two open log fireplaces heating the main bar and restaurant area.
Portmeirion village, just fifteen minutes from the cabins was built by an eccentric millionaire Clough Williams-Ellis between 1925-1972. It's unique architecture never fails to impress. If it looks familiar, it's probably because it was the location for the cult 1960's TV show "The Prisoner".
Visit: www.portmeirion-village.com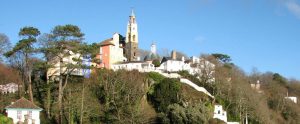 Many of the 'great little trains of Wales' are nearby:
TalyLlyn Railway – Visit: www.talyllyn.co.uk
Ffestiniog and Welsh Highland Railway: http://www.festrail.co.uk/
Centre for Alternative Technology – Visit: www.cat.org.uk
We also have the old family favorite – stunning beaches close by in Aberdyfi (Aberdovey), Tywyn, Harlech and Barmouth.